F A H I M A   F A T T A H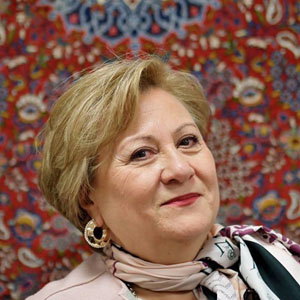 Fahima Fattah is an accomplished artist who draws inspiration from various sources such as culture, spirituality, beauty, and human nature. With a Bachelor of Arts degree from the University of Baghdad, she has honed her artistic skills and developed a unique style that sets her apart.
Currently, Fahima Fattah operates her art studio in Oakville, Ontario, where she creates captivating artworks. Her talent and distinct style have garnered international recognition since 2005, with her paintings being showcased in numerous countries. Her works can be found in prestigious locations like the St. Regis Abu Dhabi in the UAE, as well as in offices and homes around the world.
One notable characteristic of Fahima Fattah's art is her portrayal of faceless characters. This deliberate choice stems from her belief that every individual carries a hidden side, like a closed book, which remains unseen by others. By omitting the faces of her characters, she prompts viewers to contemplate the complexity and depth within each person, encouraging introspection and reflection.